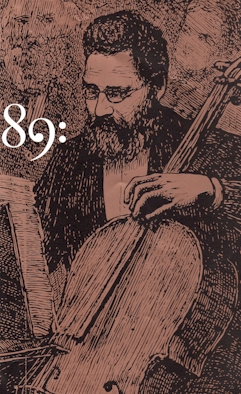 Click here to download the PDF
How Community Orchestras Enrich Our Lives
Volume 3, Number 5, September/October 2011 - from the publication 89:
Classical 89 invited three of our Utah community orchestra conductors to weigh in on the question of how they and their musicians accomplish so much for so little. We're pleased to share their responses. Our conductors are John Pew (Timpanogos Symphony Orchestra), Joel Rosenberg (American West Symphony and the Paradigm Chamber Orchestra), and Bryce Rytting (Utah Valley Symphony).
Bryce Rytting
A community orchestra is a miracle wrought by idealism. Each member comes with a decade or two of training. A violinist's parents, for instance, may well spend $10,000 on hundreds of lessons before their child even graduates from high school. Those lessons entailed thousands of hours of practice. Most musicians continue to hone their skills in college and beyond, many by majoring in music.
Sometime after college, I meet some of these accomplished people when they join the Utah Valley Symphony. Most are raising a houseful of children. Most are heavily involved in community and church service. Most are mind-numbingly busy. Yet forty to fifty times a year - year after year - with no financial incentive and scant acclaim, they come together to play in an orchestra, either in rehearsal or performance. A single session can be a three-hour commitment.
To make music in an orchestra is staggeringly complex. Four families of instruments must find ways to balance, complement, and blend with each other. This is not a trivial problem: not only are strings, winds, and brass tuned differently, they even go out of tune in different directions! And some instrument families have a tough job blending among themselves. If a flute, oboe, clarinet, and bassoon are siblings, only the double reeds have the same parents - the flute must have been adopted. Moreover, composers set very different tasks for instruments: the violins are chronically over-worked, but the low brass might wait silently for three movements and then count seventy-six measures before playing their first note - only to count a few dozen more empty measures before playing again.
Why are they all willing to do this? They collectively create a most ephemeral beauty. Sound a note and it's gone, leaving no trace except - if enough goes right - an enriched soul. A community orchestra is a miracle!
John Pew
...
One might ask: Why would anyone want to play in the symphony orchestra, especially without pay? It costs weekly rehearsals, hours of practice, and time away from family and friends. But anyone who has spent that time practicing and loves music knows the answer without verbalizing it. It's the thrill of performing great music!...
The beauty of a community orchestra, a group of amateurs, is that we don't play amateurish music - we play much of the same music as the professional groups. And we derive as much (and sometimes even more!) pleasure from performing a Beethoven symphony, a Rachmaninoff piano concerto, or a Saint-Saens violin concerto as do the professionals....
After our first concert by the Timpanogos Symphony Orchestra in April of this year [2011], I received this note from an audience member: "Those in the audience became more than just listeners. We were part of a positive and uplifting event. In some small way each one can take some ownership and feel they are part of a community that sponsors a wonderful symphony orchestra." With that kind of audience reception, how can I not feel that what we amateurs do is a great thing for a community?
Joel Rosenberg
It is a special moment when an audience leaves a concert hall with that extra spring in their step after hearing an uplifting symphonic performance. They feel more alive and walk with a buoyant gait. Some may even hum or sing the music. They may temporarily have forgotten their troubles, aches, and pains.
The audience received a gift- inspiration - from the members of the orchestra. The musicians have also received a gift. Theirs is the satisfaction of performing well and exposing others to the profound importance of great music, for which, I believe, there is no replacement.
The conductor can bring these gifts together by improving the playing ability of the musicians and raising the audience's appreciation to the value of a good performance. Ours is a temporal art. In live performance, the magic is created and it is gone. A good conductor will instill in the audience the importance of appreciating the exhilaration of the moment.
Fine orchestral playing is an art that requires great discipline, patience, physical coordination, and the devotion to stay with a project until it is prepared. It takes a special quality of devotion to be a good orchestral musician. This is embraced, in part, by the adage, "We are doing something together that we cannot do alone." This commitment is ultimately expressed in the quality, spontaneity, and energy of the performance....
When you combine this commitment with an audience that is grateful, you have struck gold. The importance and joy of conducting an orchestra is seeing all of these facets come together.
Music is part of our "Tree of Life." Without it we are a more hollow society.