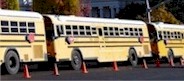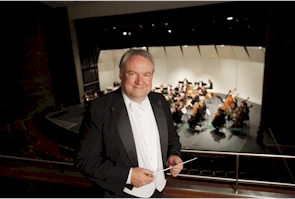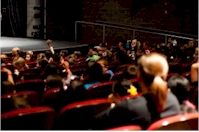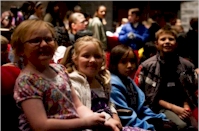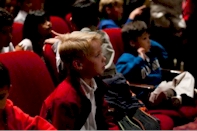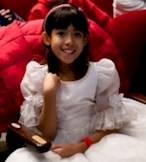 School Concerts
What are the School Concerts?

Since 1969 the Utah Valley Symphony has hosted 'School Concerts' for Utah Valley school age children to experience a classical music concert in a friendly, inviting way. Children of ALL ages will enjoy this concert!

Our conductor designs these 40 minute concerts in a format that brings classical music to a level in which children of all ages can understand.

Bryce Rytting has a warm and engaging personality which brought him the distinction in 2000 of Brigham Young University's 'Teacher of the Year'. This is an honor given by the student body to a select teacher.

What can we expect?
The format of the 40 minute concert goes as follows.
Welcome by our General Manager, Lance Jensen
Concertmaster (1st Chair, 1st Violin) stands up to have the orchestra tune
Conductor comes on stage and we perform a lively 2-4 minute 'overture'
Conductor talks a few minutes about what we just played
A group sing-in of Twinkle, Twinkle Little Star to educate about ABA form. Symphony demonstrate this in a piece.
Young Artists Concerto winners:


Hadyn's Divertimento for Piano and Orch. in C, 3rd mvt
Angel Nixon, age 8, Cascade Elementary

Beethoven Piano Concerto No. 1, 1st mvt excerpts
Cooper Martineau, age 12, Homeschool

Ravel's Violin Tzigane excerpts
Miriam Wagstaff, age 16, Homeschool
Group violin piece: Vivaldi a minor, 1st mvt
Cynthia Jensen (age 11), Cedar Ridge Elementary
Aspen Larson (age 13), Oak Canyon Jr. High
Emily McMurtrey (age 12) Frontier Middle School
Annalise Schetselaar (age 13), Lincoln Academy


Thank you for coming!
We would love to come! When is it?

When: Tuesday, October 18, 2016
Where: Provo Covey Center for the Arts (map)
Time: There are TWO performances to choose from:
Seating is limited. You MUST RESERVE your seats!

Reserve online
We must have a final tally by October 10 so we can fill in empty seats with those on waiting list.


Other notes for teachers
Have children wear best dress or Sunday clothes
Review early these Concert Etiquette Resources from MENC, including a quiz to give to your students!
Home school parents: as a courtesy to audience and performers, do not bring children under 6 years old. Music will get loud, and can be startling to younger children, which will then cry, disturbing the performers and audience. Please use your discretion.
To schedule your school, class or home school group to come, Reserve online.